Together we 'can' make a difference

Living with hunger can mean you don't always know where your next meal is going to come from. For an increasing number of seniors, this is an alarming situation that is happening more frequently. Many must choose between eating regular meals or paying for basic expenses, like rent or electricity.
What the findings tell us.
According to the 2018 Hunger Report from the Ontario Association of Food Banks, the number of seniors accessing food banks has increased 10 percent over the last year alone. Looking at the 2018 Annual Report from Food Banks Alberta, the province remains among the highest in the country with regard to food bank usage, which again includes a significant share of clients over the age of 65. The majority of these individuals come from a single-person household and report that their government pensions (i.e. Canada Pension Plan, Old Age Security) are falling behind the rising cost of living.
Partnership with Food Banks Canada.
For these reasons, Seasons Retirement Communities chose to partner with Food Banks Canada in 2016, focusing our corporate giving efforts on local food banks in the towns that our residents and team members call 'home'. Since then, we have donated a combined total of $80,000, half of which was donated this July. Previously, Seasons also donated 100 hams and 100 turkeys to food banks in every city or town where we operate a residence. After learning that food banks are in great need during the summer months, when they typically face a harsh decline in donations, we shifted our efforts to help fight hunger at a time when contributions are more urgently needed.
"This support will go a long way in helping our network ensure that the 502,000 adults, children, and seniors that we serve annually have ongoing access to nutritious food throughout the year," said Michael Maidment, chair, Feed Ontario Board of Directors (formerly the Ontario Food Banks Association).
Canned-Good Collection.
Simultaneously, we have been hosting our annual One 'Can' Make a Difference Challenge, collecting canned goods and non-perishable food items in each home to contribute alongside the monetary donation to a local food bank.
"The support of community partners like Seasons Retirement Communities directly impacts food banks in their local communities to help individuals in need," said Stephanie Walsh-Rigby, executive director, Food Banks Alberta. "This donation of funds and non-perishable food items will go a long way to help food banks this summer; a time when donations typically are lower, but the need is still great," continued Walsh-Rigby.
Winner of the 2019 One 'Can' Make a Difference Challenge.
The winner of our 'can count' is Seasons Owen Sound, with the close runner-up being Seasons Stoney Creek, both with over 1,000 non-perishable food items. Seasons Owen Sound partnered with the local Zehrs supermarket, Fire Department and the Salvation Army Family Services and Food Bank in Owen Sound, the organization to which they were donating, to gather support. The local radio station even did an on-site broadcast of the event, after the team reached out hoping to spread the word about their mission.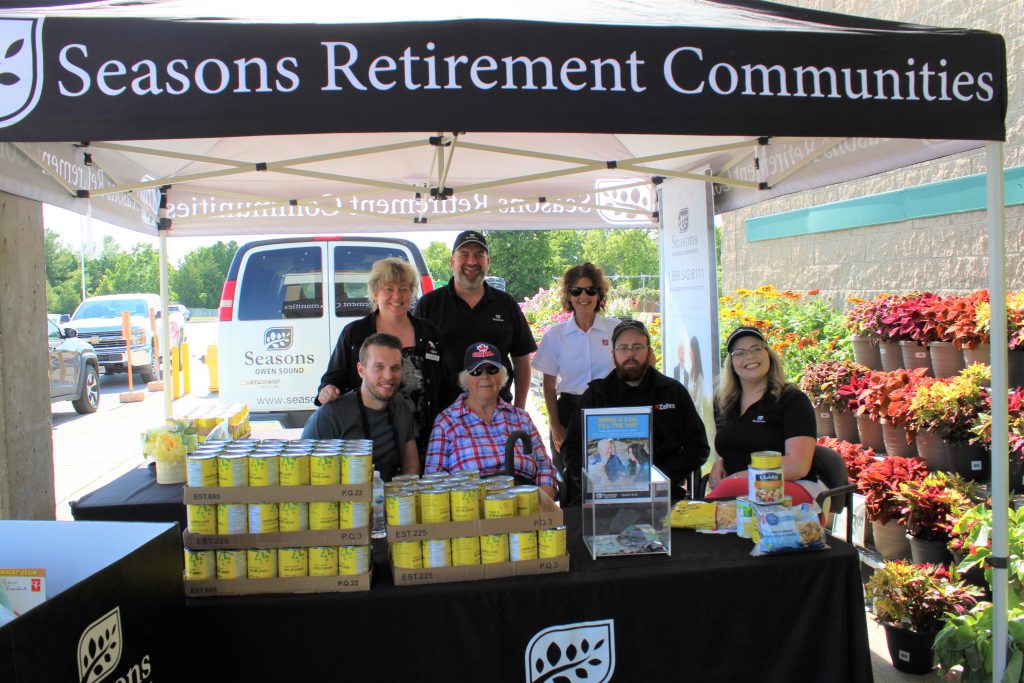 In a very close second place was Seasons Stoney Creek. This team got their Seniorosity squad involved: a volunteer program designed to provide opportunities for our residents to connect with people in the greater community. These residents encouraged others to get excited about the collection and their efforts showed in the results. The team also offered an additional incentive of a gift card to the resident or team member that collected the most cans.
It's a powerful thing when people come together in the hope of making a difference. These fundraising efforts make our residents and staff feel good about doing something worthwhile. Both of these inspiring teams exemplify what is possible when the entire community comes together!
Book a personal visit to best determine if Seasons is the right fit for you or your loved one.