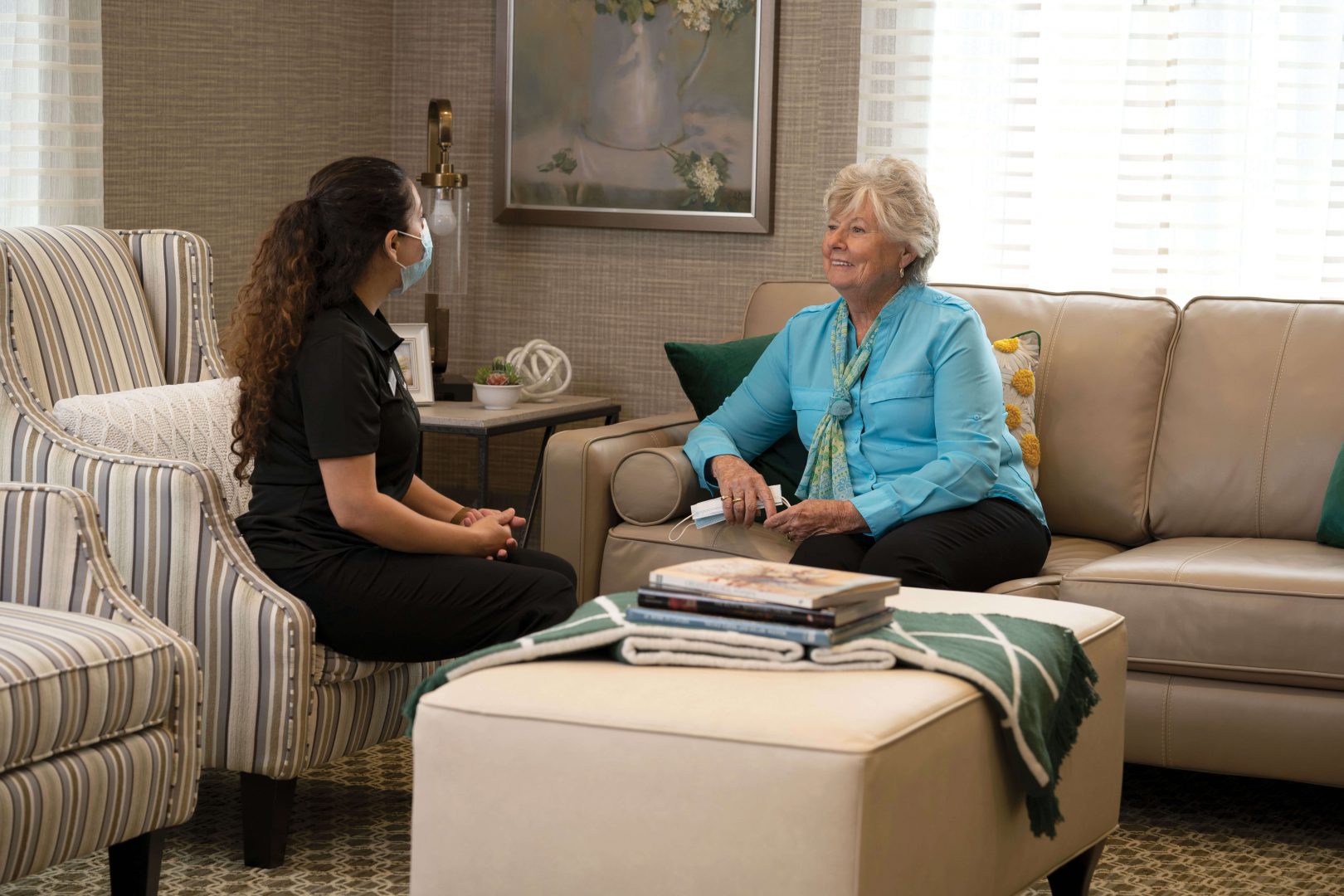 When you start to consider retirement community living seriously, questions are bound to arise.
Frequently Asked Questions
When you start to consider retirement community living seriously, questions are bound to arise. Here are the responses to our most commonly asked questions from new prospects and their families.
Yes. Our leases are month to month, so if anything ever changes, residents simply provide 30 days' notice.
On the anniversary of your move-in date, you will receive a rate increase. Rate increases are in keeping with the Residential Tenancies Act. Notice of this increase will be provided to you 90 days in advance.
Yes. Our short-term stay program is excellent for recovery after illness or surgery or a short-term trial stay. We offer fully furnished suites equipped with telephone and cable television. Meals and care are included in the daily cost. The Leasing Manager at each Seasons community will be happy to provide more information.
While unoccupied suites may be able to accommodate guest stays, we do not have specific suites reserved for guests at this time. Please ask the concierge about bookings in advance of your guest's visit. If you feel you have room in your suite, your guests are welcome to stay with you overnight.
Unfurnished. We want residents to feel comfortable: They should be surrounded by familiar furniture that they love or new furniture that suits their style.
In our retirement home suites, we allow small appliances that have an automatic shut-off. In addition, we have a 24-hour bistro area with complimentary tea, coffee, fresh fruit and baked goods.
Usually, there are no set visiting hours: Seasons is your home, and residents can entertain guests whenever they like. For the safety of our residents, we lock our front doors after hours. Guests may gain access by ringing the doorbell and speaking to one of our service team members, and then they are required to sign in and out of our guest registry at the front desk. Due to COVID-19 protocols, we may implement visiting hours to ensure safe, equal access for all guests.  Please contact your preferred Seasons community for the most up-to-date information.
Yes, we can accommodate specific medical diets, such as a Diabetic diet, for example. Our Health & Wellness team is available to discuss and review healthy meal choices.
We welcome all our residents' guests! Please inquire with the concierge for meal prices and to reserve your table.
Many of our retirement communities offer 2-3 delicious meals each day, served in our dining rooms. We encourage our residents to enjoy meals with others to create a social atmosphere and build friendships. Some of our residences offer a community kitchen space so people may prepare a meal or do some baking if they like. It's fully stocked with all the kitchen cookware needed. Additionally, some of our communities have townhomes or apartments, which are equipped with full kitchens.
Yes, all Seasons homes are pet-friendly! We ask that residents respect their neighbours' right to quiet enjoyment of their home and that they provide us with an emergency contact number in case they need assistance caring for their pet. There is never an additional charge to bring your pet. However, you will be expected to maintain any costs associated with their care.
Yes, you can bring your car! We charge a monthly fee to reserve a preferred parking spot. Otherwise, general parking is free.
All Seasons Service Team Leaders and Members are trained to look out for even the subtlest changes in our residents to have proactive, discreet conversations with them about their well-being. A member of our Health & Wellness team will meet with you to discuss your or your loved one's health care needs and review all of your future options.
Yes, residents are welcome to keep their physicians. Additionally, in some cases, residents have access to an in-house doctor or a telemedicine system to receive medical consultation over the phone. A pharmacist will also be on-site regularly to discuss medications utilizing e-MAR, an advanced Electronic Medication Administration Record system.
Yes. Seasons Retirement communities are staffed 24 hours a day, 7 days a week.  There is always someone available to assist if needed.
A pendant activates our emergency call system that residents wear as a necklace or on their wrist. In the event of an emergency, they would press the button, and our trained staff can respond immediately.
Yes. Seasons communities in Ontario offer a "Fun Bus" or shuttle to travel to and from outings within the community. Outings include local excursions, restaurants, shopping centres, sometimes even further to Niagara Falls or one of Ontario's beautiful provincial and national parks.
We hope that you decide to make Seasons Retirement Communities your home! The Leasing Manager will walk you through the steps from leaving a deposit, to meeting with our Health & Wellness Manager, to selecting the move-in date that suits you best.  We will do everything we can to make the move-in process as smooth as possible for you. Our team looks forward to welcoming you!
At the outset of the COVID-19 situation in Canada, Seasons Retirement Communities implemented heightened precautionary protocols in all of our homes. We continue to follow the advice of provincial and federal governments, our sector regulators, and local Public Health agencies.
For the most updated information, please contact the Seasons residence directly. Contact information for each home can be found on the Locations tab of our website.
For the most updated information, please contact the Seasons residence directly. Contact information for each home can be found on the Locations tab of our website. Operations are subject to change on a situational basis.
Cubigo is an easy-to-use Community Engagement Platform to stay up to date with the news in your community, request services and connect with staff at any time and any place. If you are a family member or resident, please reach out to the Business Manager if you would like to enroll in Cubigo so that you can schedule visits with your loved one and stay informed!
Discover Life at Seasons. Book a Personal Visit Today.