Seasons team member first to get COVID-19 vaccine in Windsor

Krystal Meloche knew that she wanted to make a difference in the lives of seniors when she applied to work with us at Seasons Belle River Retirement Community. After her father and sister contracted COVID-19 from her mother who was an asymptomatic carrier, her father was placed on a ventilator and sadly succumbed to the virus, while her sister is still experiencing long-term effects. It was an emotional time for Krystal as she did her best to care for her family, including her sister's children, who she had to remain isolated from.
In time, Krystal decided that she wanted to continue helping others. "She loves her job at Seasons and our residents, she goes above and beyond for them daily," says Health & Wellness Manager, Anita Palaszynski-Miller. "We are so excited that she was the first in Windsor to get the COVID-19 vaccine. She has experienced firsthand how the virus has affected so many of us and has turned it into something positive."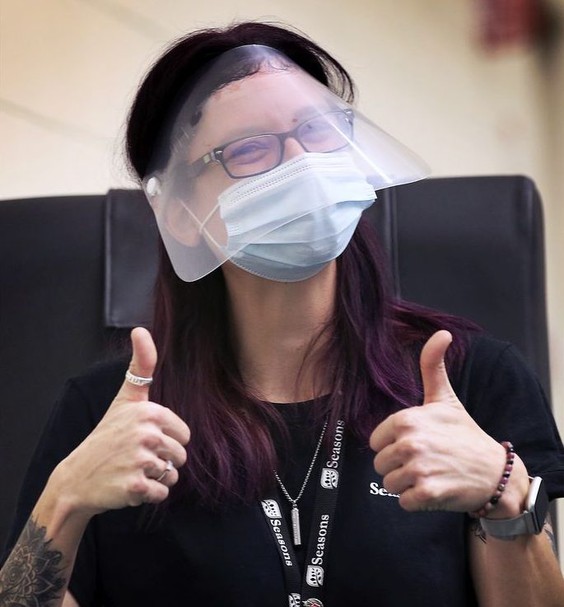 "This whole experience has been an overwhelming honour. I am beyond lucky to be the first in my region to receive the COVID-19 vaccine. COVID-19 has affected all of our lives to a certain degree, from having to adjust to the new norm of wearing face masks, to more time spent handwashing, to being at home in isolation for days or weeks, or even losing someone we love," says Krystal.
"In this unprecedented time, this vaccine has given me hope; hope that no other family will have to watch their loved one suffer from this as mine did, hope that we can go back to living our normal lives, hope that my residents can hug their loved ones again, and hope that we can fight this battle and win," she continues.
Over the course of 2021, the free vaccine will become available to everyone who lives in Canada. Until extensive immunization is achieved, we encourage everyone to remain vigilant and follow the advice of Public Health. While the decision to be vaccinated is a personal one, our team members like Krystal, have been overwhelmingly supportive of getting vaccinated and our residents are excited at the opportunity.
For additional online resources for COVID-19, including information on the COVID-19 vaccine, you can visit the following sites:
Canada Health
Alberta Health
Alberta Health Services
Public Health Ontario
Retirement Home Regulatory Authority