Is retirement living or LTC right for me or my loved one?

Choosing the right senior living option for you or your loved one is an important decision. Understanding what these choices mean, however, can be difficult at the best of times, let alone amid a pandemic.
One of the most long-standing, common misconceptions is that retirement residences and long-term care homes are the same. This is especially true with the media's focus on negative storytelling and at times inaccurate labelling of each. The truth is, retirement residences and long-term care homes offer different types of services based on the level of care you or your loved one need.
A retirement residence is typically an independent living community that offers convenient services such as housekeeping, meal service, a planned social calendar, and care if needed. A number of independent older adults consider retirement living because they appreciate the convenience and support of communal living. It allows them to enjoy their retirement years worry-free, without the burden of household chores and maintenance.
While a heightened focus on health and safety has changed the daily routines of the people who live with us, Seasons staff continue to work hard to ensure residents stay connected and engaged. We also remain committed to providing excellent customer service and a positive daily experience for our residents. Seasons exclusively operates retirement residences.
Alternatively, long-term care or LTC caters to individuals with the highest level of complex care needs, which might include 24-hour support. Long-term care homes typically include waitlist and application process before being able to move in. In Ontario, long-term care homes are subsidized by the provincial government, while most retirement homes are not. In Alberta, we work in partnership with Alberta Health Services to accommodate care needs up to a certain measure.
Throughout the pandemic, retirement residences have fared better than long-term care in the prevention and control of the virus. As of February 16th, 2021, just 2.51 percent of our total resident population tested positive for COVID-19, throughout the entire second wave. For staff, during the same time period, we're at just 2.69 percent. Among the Seasons homes that have been able to fully participate to date, we have seen a resident vaccination rate of 94.8 percent​.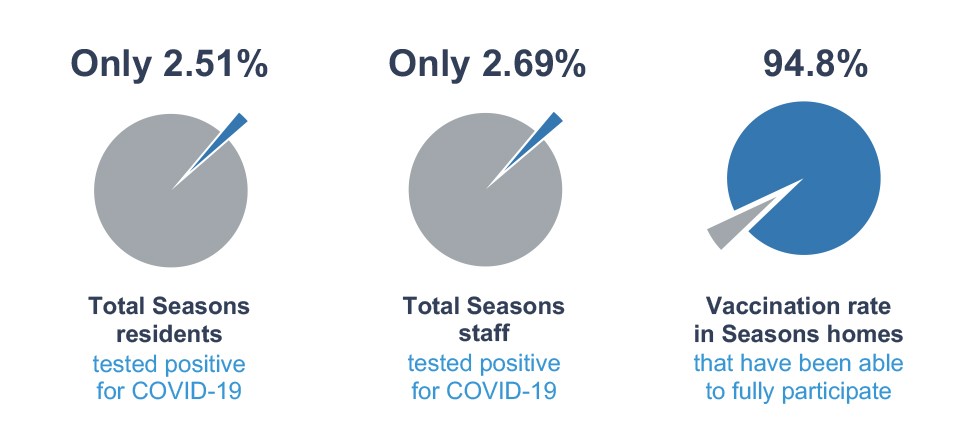 This topic, along with others, including knowing when it's the right time to make a move and the steps that follow, was recently discussed in our new monthly webinar series, Seasons Speaks. You can click here view the full recorded version on our YouTube channel.
For more information, we would encourage you to speak with the Seasons Leasing Manager at your desired location or complete our contact form to arrange a virtual or in-person visit. You can rest assured that all visits will be scheduled in accordance with COVID-19 safety measures. For the most up-to-date protocols, see our Company tab.