8 Reasons Why Retirement Living is a Great Idea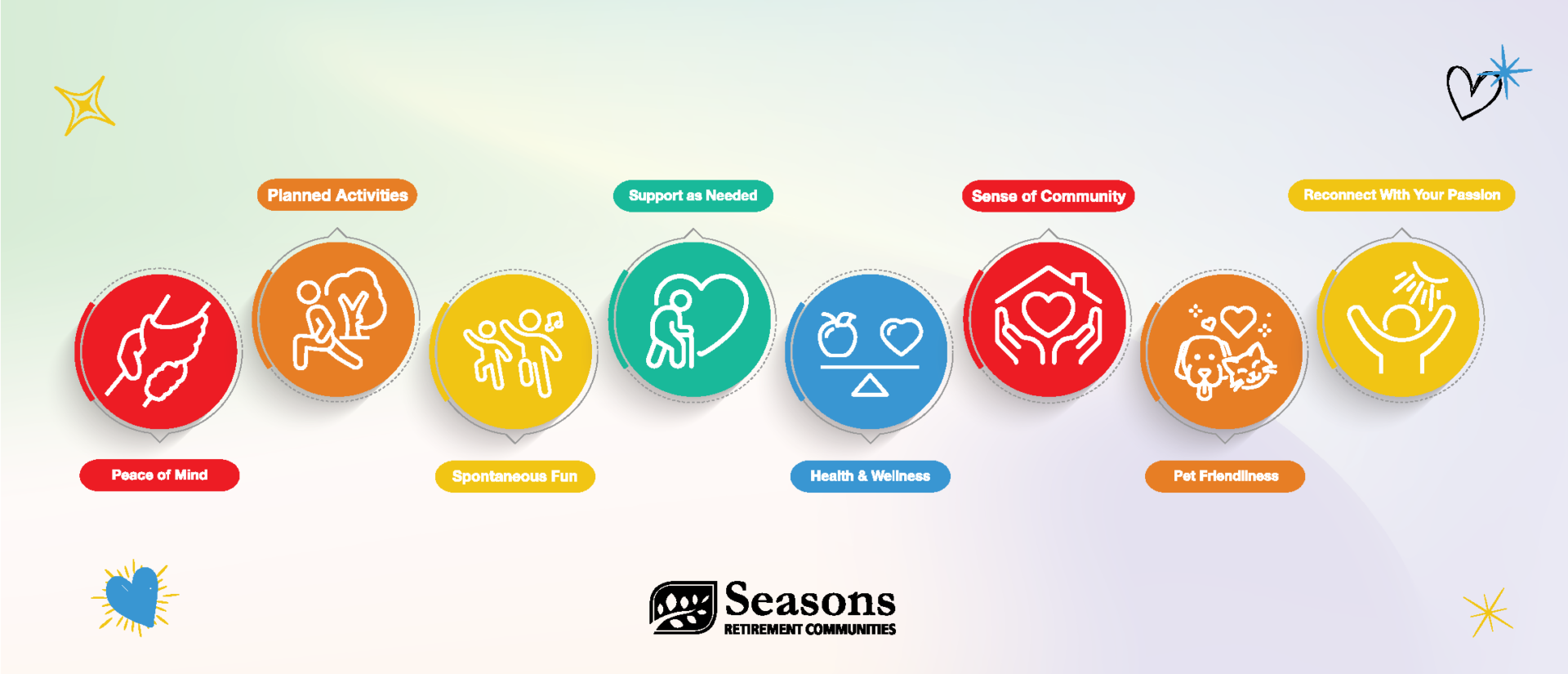 Whether it's a team member who delivers your morning coffee just the way you like it or a friendly neighbour who invites you to join an activity, Seasons residents know they are surrounded by people who genuinely care. 
According to Harvard Health, good connections and social support improve health and longevity and increase feelings of happiness. At Seasons, we want to learn who our residents are as individuals, understand what is most important to them and then do whatever we can within each interaction to exceed their expectations. We call those small instances "wow moments" because we know how significant they can be in making someone feel valued, cared for, and at home. 
Moving to a retirement community is a big decision, and you might ask yourself if now is the right time for you or your loved one. Here are eight reasons why it's a great idea to move to Seasons:
There's no shortage of fun at Seasons Retirement Communities! Our Fun Managers organize a monthly calendar with activities based on the preferences and interests of our residents. Residents are encouraged to share their favourite pastimes, and some choose to lead programs and workshops based on their unique talents. 
For some, it's the unscheduled card nights or after-dinner drinks that our residents love most about living at Seasons.  Even if you are an introvert who would like to spend time reading a book in the bistro, it can still feel good to be around other people. Busy or quiet, the choice is yours!
In a retirement residence, you're surrounded by neighbours in the same phase of life as you.  This is fertile ground for new friendships!  After moving in, our team members will introduce you to others and help make connections.  It feels good to be part of a community surrounded by people who genuinely care. 
Reconnect With Your Passion
Seasons team members are dedicated to making our residents' lives more enjoyable. 
You're free to do whatever makes you happiest without the stress of household chores and home maintenance.  This might include picking up an old hobby, volunteering or learning a new skill.  We know our residents worked hard their entire lives and deserve a worry-free retirement doing things they love!

Residents enjoy peace of mind knowing someone is always there if and when they need them. Whether it be a team member or a neighbour, our residents feel supported and cared about.  In addition, our team members are trained to look for changes in a resident's physical or mental health, which is comforting to our residents' families. 
Seasons believes in a flexible approach to care that supports our residents' preferences. We offer a range of care options* to meet our residents' needs today and as they evolve. Before move-in, we will assess each resident and recommend the most appropriate service package. After move-in, our Health & Wellness team will reassess these requirements every six months or annually. *For detailed information, we encourage you to book a personal visit as care services vary by Seasons Community. 
Whether it's preparing nutritious and appetizing meals, offering regular fitness classes, or building meaningful connections with our residents, Seasons offers a holistic approach to wellness.  We care deeply about our residents' mental and emotional health and work to ensure they are happy, healthy, and connected to their community.  
Seasons understands that pets are like an extension of family to many people, so we would never want you to choose between living with us or your pet. For this reason, all Seasons Retirement Communities are pet-friendly with no added cost! We just ask that residents respect their neighbours' right to quiet enjoyment of their home and that they provide us with an emergency contact number in case they need assistance caring for their pet.